---
---
---
Trenching Attachment for Excavators between 4.5T and 8T

PROUDLY MADE IN AUSTRALIA
The Digga Mini Excavator Bigfoot XD Trencher with 900mm or 1200mm Chain has the option of 4 different Cutting Widths, with 3 different types of Teeth available:
150mm, 200mm, 250mm and 300mm Cutting Widths.
Earth Chain: Earth Teeth on every "Second Station." Best for soft clean ground with no floaters or tree roots.
Combination Chain: 70% Diggatac Teeth and 30% Earth Teeth. Best for most applications. Cuts through hard soil, roots, shale and rocky ground.
Diggatac Chain: Diggatac Carbide Teeth. Best for hard shale, asphalt or frozen ground.
Suits all makes and models of Mini Excavators with a minimum flow rate of 60Lpm.

The Mini Excavator Bigfoot XD Trencher includes:
Your choice of chain
Hoses and Couplers to suit your machine
Excavator Hitch
Crumber Bar
The Mini Excavator Trencher is sold as a "Plug and Play" package. There is nothing more needed to start trenching professionally.
Pick up from our warehouses in Brisbane, Sydney or Melbourne.
Freight available Australia wide.
Trenchers for machines up to 8T
Ideal for excavators up to 8 tonne the Bigfoot Trencher can be used for pipe laying for irrigation, underground power & communications, road repairs, general construction.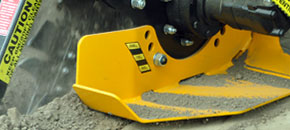 Adjustable depth skid foot
Precision depth control ensures the spoil auger has optimum ground clearance. Take advantage of every bit of valuable horsepower when trenching. Preset depths: 600 / 750 / 900mm.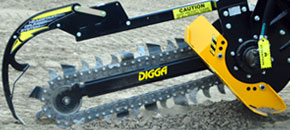 Heavy duty crumbing system
Start trenching with the crumber in-ground. A super heavy duty spring ensures the crumber stays engaged with the bottom of the trench for maximum spoil removal from start to finish. View animation.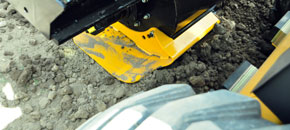 Skid foot can be seen from the cab
The new design foot can be clearly seen from the cab and allows the operator to see when the trencher is in the correct trenching position. No need for a spotter.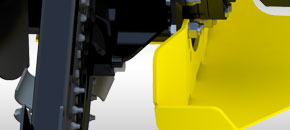 A cleaner work-side of the trench
Digga's new foot design also feeds overburden back onto the chain, transferring it to the spoil auger for a cleaner clearer work side of the trench.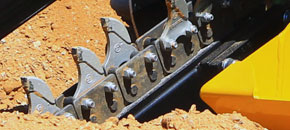 Anti-back flex chain design
You can be guaranteed of quality and superior performance with our Anti-back Flex design. It prevents the chain links from flexing back in tough soil conditions.
Everything You Need to Know About Buying the Digga Bigfoot Trencher
Whether you need to create drainage, install underground plumbing, or tackle challenging ground conditions, no tool gets the job done the same way as the Digga Bigfoot trencher. When looking for a simple way to equip yourself or your business with a trenching machine suitable for a wide variety of jobs and tasks, this tool does it all. Built right here in Australia - all the way down to the gearbox itself - and powered by an Eaton motor, this is domestic industrial machinery at its finest. How do you know which trencher tool is right for you, though? There are several models of the Bigfoot to consider, not to mention the attributes of the machinery itself.
At Earthmoving Warehouse, helping you answer these questions while finding a competitive price point on the machinery you need is what we do best. Whether you're a veteran digger operator or this is your first time searching for a trench cutter machine, there is a wealth of information to consider. Let's begin by exploring a few of the most common use cases before exploring everything else you need to know about the Digga Bigfoot.
* Price does not include GST. GST will be calculated on check-out.