---
---
---
Trenchers for Mini Loaders and Trenchers for Small Skid Steer Loaders

Mini Loader Trencher
Suits all makes and models of Mini Loaders with Mini Multi Fit Frames including Boxer, Dingo, Kanga, Viking etc and other makes including Toro, Vermeer and more.
For Mini Loader Trenchers please choose the frame and chain type from the drop down menu.
Small Skid Steer Loader Trencher 
Suits all Small Skid Steer Loaders including ASV PT30/RC30/RT40, Bobcat S70/S100, Case 1825, New Holland L120, Toyota Huski 4SDK4 and Wacker Neuson 501.
For Small Skid Steer Loader Trenchers please choose Bolt On Frame and chain type from the drop down menu and we will confirm your machine make and model prior to shipping or pick up.
The Digga Mini Loader Bigfoot Trencher 900mm has the option of 3 different size chains and 3 different types of Chain Teeth:
100mm, 150mm and 200mm Chains.
Earth Chain: Earth Teeth on every "Second Station." Best for soft clean ground with no floaters or tree roots.
Combination Chain: 70% Diggatac Teeth and 30% Earth Teeth. Best for most applications. Cuts through hard soil, roots, shale and rocky ground.
Diggatac Chain: Diggatac Carbide Teeth. Best for hard shale, asphalt or frozen ground.
Frame, hoses and your choice of Couplers.
Pick up from our warehouses in Brisbane, Sydney or Melbourne
Freight available Australia wide
PROUDLY PRODUCED AND MANUFACTURED IN AUSTRALIA

Ideal for mini machines up to 1.5 tonne, including brands such as Dingo, Toro, Kanga, Vermeer & ASV, Bobcat, New Holland, Huski and more. The Mini Bigfoot Trencher can be used for pipe laying for irrigation, underground power & communications, road repairs, general construction.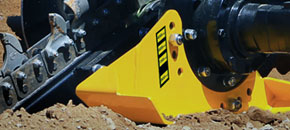 Adjustable depth skid foot
Precision depth control ensures the spoil auger has optimum ground clearance. Take advantage of every bit of valuable horsepower when trenching. Preset depths: 450 / 600 / 750 / 900mm.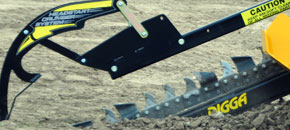 Heavy duty crumbing system
Start trenching with the crumber in-ground. A super heavy duty spring ensures the crumber stays engaged with the bottom of the trench for maximum spoil removal from start to finish. View animation.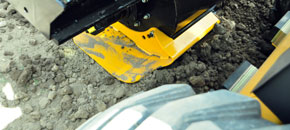 Skid foot can be seen from the cab
The new design foot can be clearly seen from the cab and allows the operator to see when the trencher is in the correct trenching position. No need for a spotter.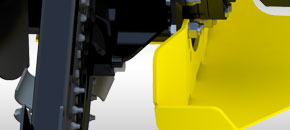 A cleaner work-side of the trench
Digga's new foot design also feeds overburden back onto the chain, transferring it to the spoil auger for a cleaner clearer work side of the trench.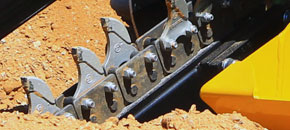 Anti-back flex chain design
You can be guaranteed of quality and superior performance with our Anti-back Flex design. It prevents the chain links from flexing back in tough soil conditions.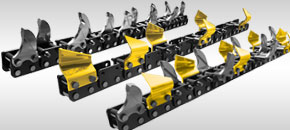 Trench in all ground conditions
Available in a number of different tooth configurations for trenching in soft ground, mixed grounds and even permafrost so you can get the job done no matter what environment you are in.
Specification
Mini
Cutting Width

100 / 150 / 200 mm

Foot Depth Presets
450 / 600 / 750 / 900 mm
Hydraulic Flow
40-90 lpm
Motor Size
2K Bell EATON
Max Pressure - Do not exceed
240 bar @ 60 lpm
Max Flow - Do not exceed
95 lpm @ 200 bar
Max Continuous Power
25 Kw (34 hp)
Weight - with built in frame*
198 kg
Weight - with bolt on frame*
230 kg
Length
1402 mm
Horizontal Height
645 mm
Width
989 mm
(*) Applies to a mini trencher with a 150mm combo chain. Weight is an approximation only.
Find the Right Mini Loader Trencher for the Job
Do you have a project coming up that requires a reliable mini loader trencher attachment? Deep, quick and consistent trenching is a necessity on many projects, for everything from utility lines to irrigation systems to power and water lines. This small trencher from Digga is up to the task, offering peerless performance in any type of soil. The product is manufactured right here in Australia and matches the highest standards for industry quality. The trencher pairs a Digga-made gearbox with an Eaton motor - a combination that delivers strong performance and complete reliability even in the toughest, rockiest soil.
* Price does not include GST. GST will be calculated on check-out.