---
---
Trenchers for Skid Steer Loaders up to 75hp Standard Flow.

PROUDLY MADE IN AUSTRALIA
The Digga Hydrive Trencher 900mm with Diggatac Chain has the option of 5 different size chains to choose from:
Skid Steer Loaders with Multi Fit Frames:
100mm Diggatac Chain Digga Hydrive Trencher  Part # HDT-000032
150mm Diggatac Chain Digga Hydrive Trencher Part # HDT-000010
200mm Diggatac Chain Digga Hydrive Trencher Part # HDT-000037
250mm Diggatac Chain Digga Hydrive Trencher Part # HDT-000040
300mm Diggatac Chain Digga Hydrive Trencher Part # HDT-000014
"Plug and Play" packages include:
Hydrive Trencher
Hoses and Couplers of your choice
Multi FIt Skid Steer Frame
Hydrive Trenchers with Diggatac Chain
For the serious trenching contractor in heavy and hard ground conditions.
TUNGSTEN TEETH - Best used in hard ground conditions and asphalt

Trencher usage ranges from pipe laying for irrigation, to underground power & communications, road repairs, and general construction.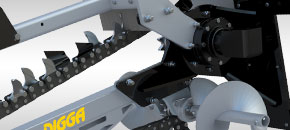 Unique drive system positioning
Drive System positioning allows for more usable horse power, providing greater efficiency for serious trenching. The EATON motor is housed above the spoil, protecting from rocks and debris.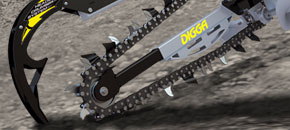 Heavy duty crumbing system
Start trenching with the crumber in-ground. A super heavy duty spring ensures the crumber stays engaged with the bottom of the trench for maximum spoil removal from start to finish.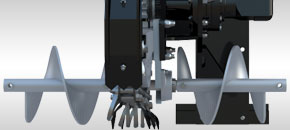 Remove spoil from both sides
Twin Spoil Augers remove finely crumbled spoil to both sides of the trench for a cleaner finish. Both augers can be detached when needed for close-up trenching to walls or fences.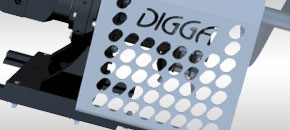 Trench faster & safer with a high visibility grill
A High Visibility Grill lets the operator see what thery are doing regardless of the trencher's angle, helping them to work faster and safer.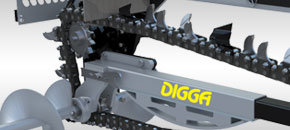 Advanced design for minimal ground disturbance
Advanced design creates finely crumbed spoil for effective re-compaction and minimal ground disturbance.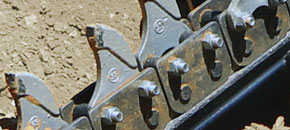 Anti-back flex chain design
You can be guaranteed of quality and superior performance with our Anti-back Flex design. It prevents the chain links from flexing back in tough soil conditions.
Pick up from our warehouses in Brisbane, Sydney or Melbourne.
Freight avaialble Australia wide.
* Price does not include GST. GST will be calculated on check-out.
---